19 Mar 2018
30 minutes outside of Deep Creek Lake, historic Grantsville, MD, is definitely worth the day trip! With charming local shops, yummy dining options, Casselman River Bridge State Park and more, this small mountain community has something to offer for ever type of traveler!
Casselman River Bridge State Park is a popular destination for bikers, hikers, and fisherman. The fly-fishing here is especially exceptional in the spring time and the bike trail is a wonderful excursion come fall, spring, and summer. The bike trail here runs through town, across Little Crossings and up River Road as part of the Eastern Continental Divide Loop Trail that is currently under development by Garrett Trails. Eventually, this bike trail will link up to the Great Allegany Passage Trail in Confluence, PA, at its western terminus and Meyersdale, PA, in the East. It will also loop down 135 miles through Friendsville, MD, Swallow Falls State Park, Deep Creek Lake State Park, and up Meadow Mountain to Grantsville.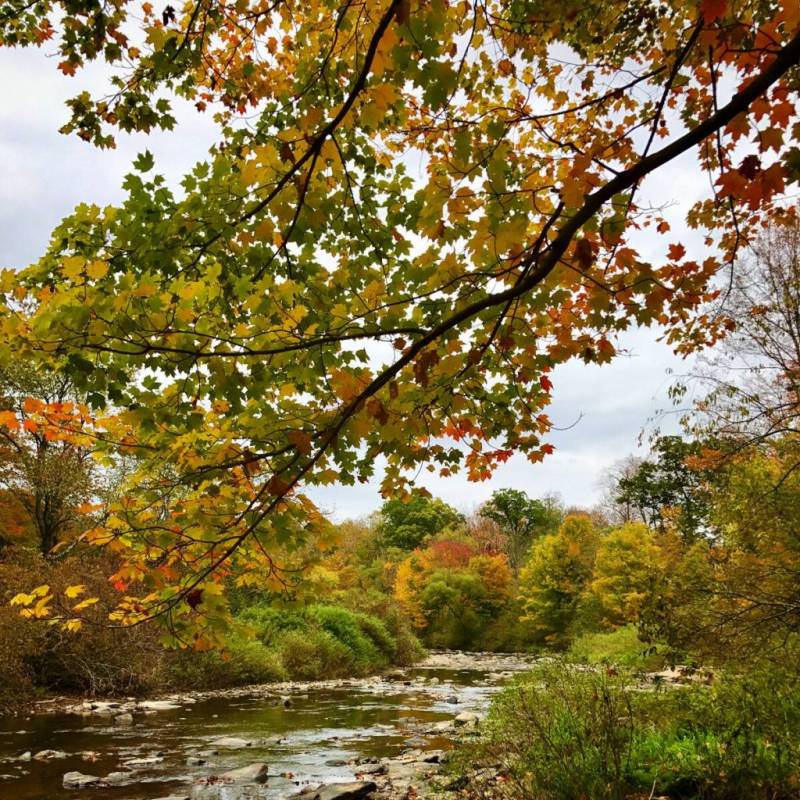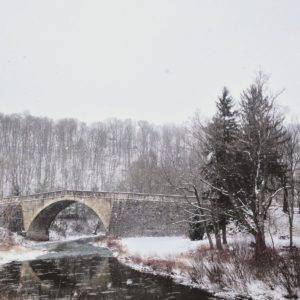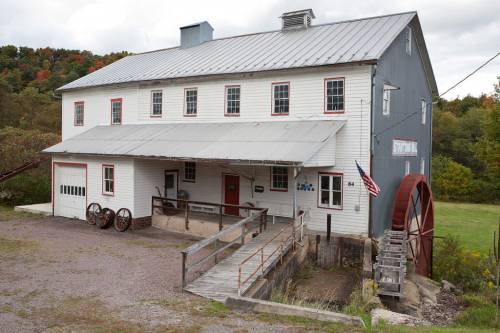 The bridge itself was erected in 1813. Its 80 foot span was the largest stone arch in America at the time of its construction, marking an important architectural milestone in our country's history.
Be sure to walk around the "Little Crossings" area. Little Crossings, the stretch of land surrounding the river, was reportedly dubbed so by George Washington during his time as a Colonel in the Revolutionary War. Colonel Washington and General Braddock passed through Grantsville on June 19, 1755, on their ill-fated expedition to Fort Duquesne. Today, Little Crossings is home to the Spruce Village Artisan Village, a collection of quaint shops and markets, the Penn Alps Restaurant, and The Cornucopia Cafe.
Dated back to 1859, the historic Stanton Mill is also located along Little Crossings for a peak back at the industrial heritage of Western Maryland.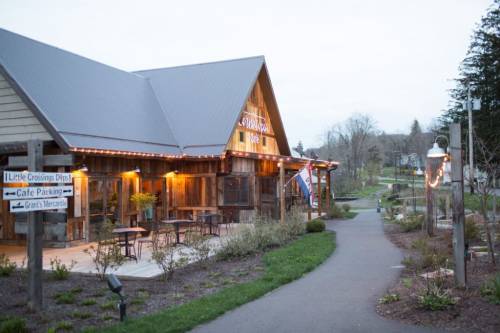 While in Grantsville, be sure to stop in at The Cornucopia Cafe! This local restaurant has a lot going for it. Built from the shell of a reclaimed barn, this local café features an idyllic riverside setting and a menu full of familiar favorites, local ingredients, and savory surprises. Nestled against the riverside, The Cornucopia Café serves as the "community's living room," a place to come, any time, for comfort and conversation—as well as a delicious meal and your favorite libation.
Some of their signature dishes include the Rosemary Lonzetta Sandwich, Backwoods Bearclaw, and signature Bean Salad side dish, enjoyed with a cold beer on tap– perhaps their exclusive Little Crossings Tavern Ale made with local honey and wheat. Delish!
We spoke with Elizabeth Williams from Cornucopia Cafe to get the inside scoop on all this great venue has to offer. Check it out:
What are some of our favorite dishes and drinks at Cornucopia Cafe?
Our menus change seasonally, though we do have some perennial favorites like the Rosemary Lonzetta sandwich , Backwoods Bearclaw, and our signature bean salad side dish . Our wine list is periodically updated, and there's always something new and different on draft. One beer that we always have on tap, however, is Little Crossings Tavern Ale. It is made exclusively for us by Whitehorse Brewing Company in Berlin, Pennsylvania using local honey, local hops, and local buckwheat. It's a very light and smooth beer with a clean finish — we wanted something that would satisfy an adventurous craft beer drinker but wouldn't be intimidating to someone who usually drinks domestic beers.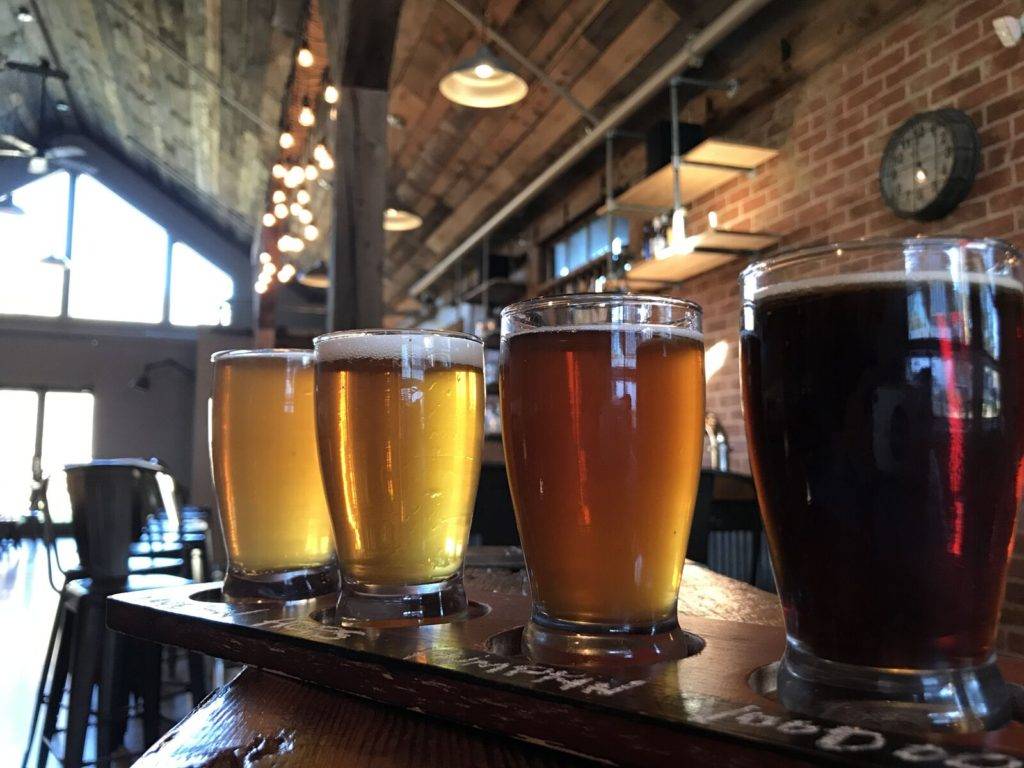 What are some "buzzwords" you like to use to describe the restaurant's vibe or aesthetic?
 #avocadotoast — LOL just kidding! Our building is a reconstructed barn, and we play off that farm motif a little bit . The property that we're on, of course like most of this area, was in agricultural use. Our mascot is a concrete pig affectionately named General Brad Hock (after General Edward Braddock) and he has a friend, Chris P. Bacon. Other subtle nods to our farm style: stylized horse harnesses are used in our banquette seating, we use antique style milk crates and milk bottles, and the pendant lights in the dining room you'd also find in any current livestock barn. // "from coffee hour to happy hour" is a phrase we like to use…. // We want to be the community's living room — a place where you can come and hang out with your friends, your family, have a meeting, sit there all day working on your laptop, meet your book club for a discussion over wine or coffee… Our servers are sincerely some of the nicest, most genuine people you'll ever meet and our beautiful building wouldn't have the warmth that it does without their positive personalities.
What is the "food philosophy" of Cornucopia Cafe?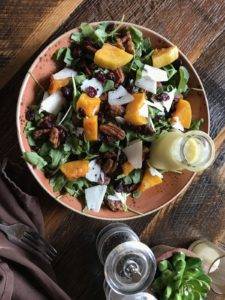 It's excellent quality that we care about. To ensure that, we make almost everything from scratch. If we can offer that excellent quality with a local product, we absolutely do. We also love using well-made ingredients from interesting regional companies — if someone is already putting out an incredible product we'll use that instead of trying to imitate it. (You can often find these specialty ingredients for sale at our sister store next door, Grant's Mercantile.) That regional focus began with discovering organic and fair-trade Rise Up Coffee, roasted in Easton. Garrett County is lucky to be home to two award-winning cheese producers, FireFly Farms in Accident and our Grantsville neighbor High Country Creamery, so we use their cheeses on at least one menu item per season, and have excellent array of cheeses from Pennsylvania Macaroni Company, a specialty foods store from Pittsburgh. The local ingredients that we always use include local maple syrup and Amish-raised eggs from a farm just a few miles away over the Pennsylvania line (that farm is one of many that supplies goat milk to FireFly — a great example of our local life cycle!). The food that we serve is somewhat novel for the existing family-style restaurants in the Grantsville area, but one that we knew was needed. Our dishes offer a twist on classic comfort food. 
What are some spring events to look out for?
The third annual Grantsville National Road Festival will take place from May 12-19. In our field behind the restaurant on May 12, we're hosting en encampment of French & Indian War with re-enactors who will step us back in time to 1755 and the time of the Braddock Campaign. Other events are in the town of Grantsville that week, too. On May 19, we are hosting the Artisan & Epicurean Faire with regional arts, crafts, and specialty food vendors with all-day live music. 
Our newest neighbor, Little Crossings Pantry, will open in late March with gourmet food products, prepared take-away meals, and all of the finishing touches for making and serving a beautiful meal. 
Deck dining should open sooner than later with this warm winter weather! Our expansive deck overlooks the Casselman River.
What is the history of your restaurant? 
Cornucopia Cafe opened in September 2015. Constructed from a 185 year old barn that was disassembled a few miles away and salvaged into the majority of the interior elements including a lofty gable roof, post and beam structures, and tabletops. The entire exterior is clad in this old wood, too. As a result, our brand new building has a warmth that could only come with the patina of time. People ask us all the time how long we've been here, and I think that's partially because you can't quite tell if it's old or new. We wanted the building to also blend in to the vernacular architecture of the area, and not look like a spaceship landed in the middle of Grantsville, or look too slick and corporate. We're right along the original alignment of the National Road in-between Stanton's Mill built in 1797 (and still operational!) and the original farmstead home next door. Across the street is Penn Alps, first opened in 1818 as Little Crossings Inn, one of the original drovers' inns of the National Road. 
The National Road is why all of this here, as the commerce of the National Road began an era of hospitality in this corner of the state. One of its crown jewels is our handsome neighbor, the Casselman River Bridge, built in 1813. (Fun fact: Casselman Bridge State Park is the smallest state park in Maryland!) Grant's Mercantile, our sister company, opened in June 2014 as our first foray in Grantsville. We are within Grantsville's Arts & Entertainment District. (established, in part, because of the excellent programming put out by Music at Penn Alps and the beloved Spruce Forest Artisan Village). We host many event nights throughout the year like wine tastings and live music, and give back to the community with many philanthropic endeavors. We are so proud to be part of the rich history of the place, while leading it into the modern era. 
The Cornucopia Café is owned by Mike Dreisbach and Jan Russell. They opened Savage River Lodge, small resort near Frostburg, in 1999. As small business owners, they are instrumental in practically all of daily operations of the business from changing light bulbs to developing the menus. 
Hooked on Grantsville? You should be!  Book a stay with Railey Vacations, enjoy the lake, and then hop in the car for a quick drive over to Grantsville. The adventure starts at Deep Creek Lake!