25 May 2022
The best way to explore Deep Creek Lake is by boat! As with any body of water, it is important to know local rules and regulations regarding boating and fishing before you get going. Check out to our handy guide to boating Deep Creek Lake– we are even sharing information of local marinas and boat launch locations!
Boating on Deep Creek Lake
Where to Rent: 
Deep Creek Lake has 6 marinas for boat and personal watercraft rentals in seasons when the lake is open. Check them out online or by calling for types of rentals, rates, policies, and more.
Boat Launching: 
Bringing your own boat? You can launch it for a fee at the Deep Creek Lake State Park Boat Ramp which is in the center of the lake which makes it convenient for any location of your lodging. Some of the local marinas can also allow boat launching and they also charge a fee. Make sure to ask about overnight parking for cars and trailers at these locations. Boat trailers are not permitted at vacation homes.
Know your boat and its equipment: 
Even the most experienced boaters can have safety and mechanical issues on the water. Be sure to follow the common steps when preparing to take the boat out for the day. Keeping a checklist to make sure everything is running smoothly, and safely can help prevent problems, and make your day more enjoyable.
Know the Rules of the Road: 
Driving a boat on the lake is just like driving a car on the road. Make sure you "Know before you go" and that your passengers are aware of the rules before heading out on the water. Safety is key when having fun on the lake!
Know Local, State, and Federal safety regulations: 
Each state and lake can have different laws and regulations for watercraft. Deep Creek Lake has regulations on the size of boats permitted on the lake, as well as regulations for personal watercrafts (Jet Skis and Waverunners) during the summer months. Be sure to research these rules and regulations before launching or renting a boat.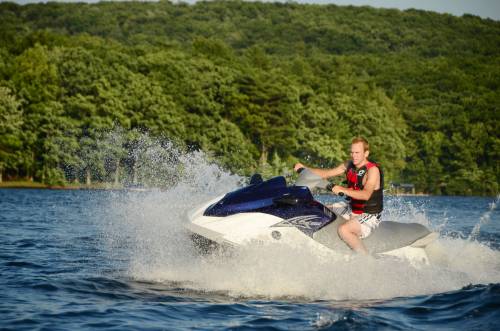 Please note:   Hovercraft and personal watercraft (Jet Skis, Sea Doos, etc.) may not be operated on the lake between 11 a.m. and 4 p.m. on the Saturday and Sunday of Memorial Day Weekend, and Saturdays, Sundays and holidays from July 1 through Labor Day. 
Fishing at Deep Creek Lake:
A fishing license is required to fish the waters of Deep Creek Lake. 
Licenses can be purchased prior to your visit or locally from one of our local vendors– like the Walmart Supercenter in Oakland, MD. Individuals under 16 are not required to purchase a license.
Some species of fish are catch and release only. 
Research local fishing laws or check with DNR to know what species are in season and which ones are catch and release only. 
Here are some Deep Creek Lake Fishing Tips:
Early mornings or evenings are the best time to fish.
Being prepared for all weather conditions! Bring along basic items such as extra layers of clothing, raingear, and comfortable shoes as well as sunscreen, water, and snacks.
Live bait and artificial lures can be purchased locally. Popular live bait to use includes nightcrawlers, shiners, and crawfish. Popular artificial lures include jigs, topwater lures, and spinnerbaits.
Whether you are new to fishing or a seasoned pro, Deep Creek Lake provides some of the best freshwater fishing that Maryland has to offer. You could be the next Deep Creek Lake fishing record holder! So get out and cast out!