21 May 2018
Join us this Thursday, May 24th, for an annual event benefiting Hart for Animals! Our Staff at Railey Vacations will be slinging drinks and hosting raffles at the lake front Harbor Bar at Dutch's at Silver Tree from 6-9 PM. See you there!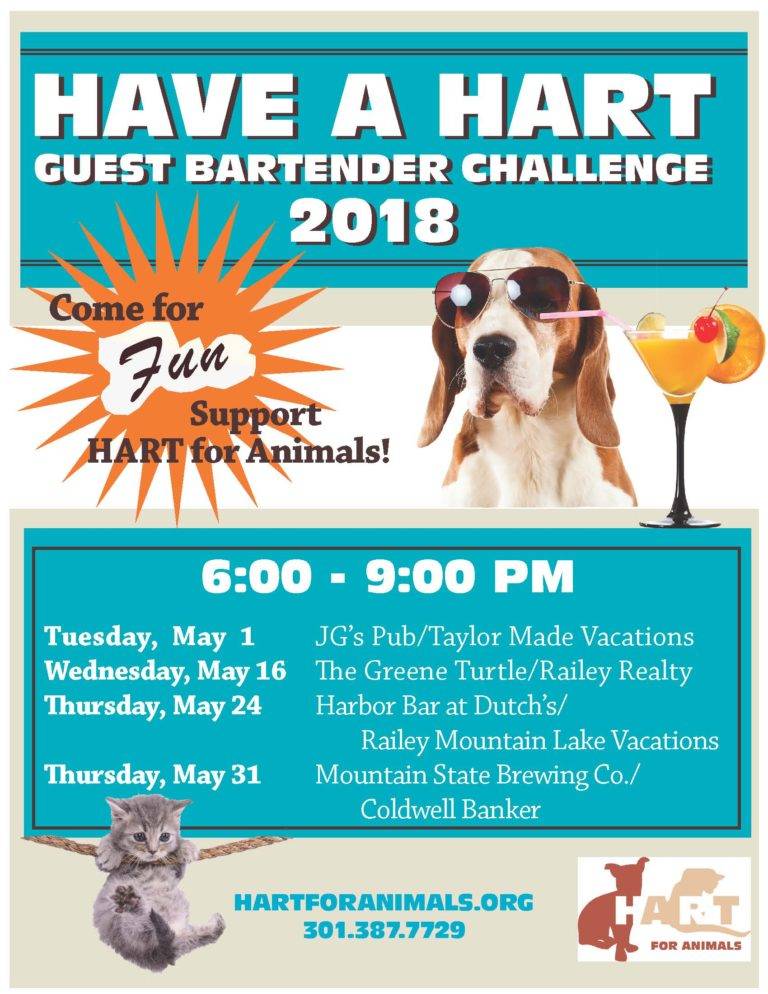 By attending this great event, and grabbing a drink with us, you are helping build up our local community and promote the wellness, health, and safety of local animals in Western Maryland. From their website, HART shares:
The HART MISSION
HART's mission is to improve the condition of animals in Western Maryland by:
Saving the lives of adoptable animals through rescue and transport, rehabilitation, and adoption.
Reducing pet overpopulation through low-cost spaying and neutering.
Building and operating a humane animal adoption center.
Encouraging community involvement for responsible pet ownership.
Reducing incidents of animal abuse and neglect in our region, through education and intervention.
AND VISION…
HART's Animal Adoption Center has become a model for compassionate animal rescue and community involvement in saving the lives of companion animals. HART has brought about a community where the famous words of Mahatma Gandhi inspire the efforts of everyone involved in making the center a reality:
"The greatness of a nation and its moral progress can be judged by the way its animals are treated. I hold that, the more helpless a creature, the more entitled it is to protection by man from the cruelty of man."
The Harbor Bar at Dutch's is a charming outdoor bar with delicious drinks and the full dinner menu from Dutch's at Silver Tree. There is no place more lovely on the lake!
And, we will be hosting a raffle and silent auction with amazing donations from all of your favorite lake businesses, like Firefly Farms and High Mountain Sports!