Spend your summer boating on Deep Creek Lake! Taking a boat out is a popular passtime at the lake can allow you to explore the area from a different view. Whether you're looking to find a quiet cove to swim in, find some waves to jump on the jet ski, or go to dinner by boat, you can do it all at Deep Creek Lake! The lake is the largest freshwater lake in Maryland, so it attracts many visitors and locals alike. Whether you're bringing your own boat or renting one on the lake, browse our information below to make your trip out on the water unforgettable!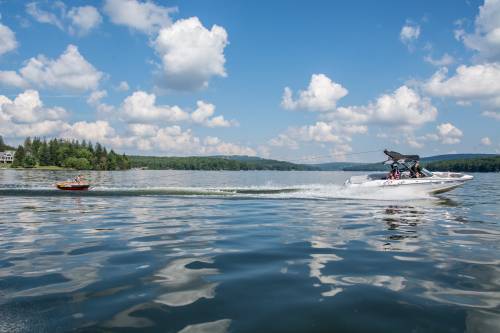 Boating
Nothing is more relaxing than spending the day on the water at Deep Creek Lake. Whether you're looking to unwind on a pontoon or have an action-packed day on a speedboat, many marinas in the area offer boat and watersport rentals. You can even bring your own boat! Deep Creek Lake State Park has a public boat launch located in the central area of the lake, making it convenient when launching and traveling to spots on the lake by boat. A unique part about Deep Creek Lake is being able to visit different businesses by boat. Looking to grab a bite to eat, or get some ice cream on a hot summer day? Many businesses offer docks for customers to use, making it convenient for you on the water.
Jet Skis
If you're looking for a thrill out on the water, hop on a jet ski! Bring a friend, or enjoy a ride by yourself. You can rent jet skis from several spots around the lake. While it can be fun, Deep Creek Lake does have certain restrictions on the use of jet skis. Read more about the use of jet skis on Deep Creek Lake here.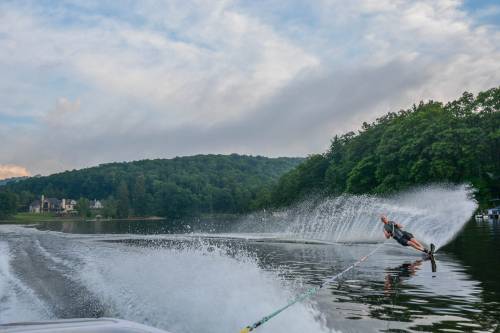 Tubing & Water Sports
Skiing, tubing, wake boarding, and wake surfing are popular activities on Deep Creek Lake. Tubing is fun for the whole family, from kids to adults. Early mornings are typically the best time for water skiing since the water is smooth and there are less boats out. Wake boarding and wake surfing have become very popular in recent years and fun to master. If you don't have your own, stop by one of the many marinas or shops around the lake to get your watersports rentals!
Marinas & Rentals:
If you want to enjoy boating on Deep Creek Lake but don't have your own boat, don't worry! There are many spots around the lake that offer boat, personal watercraft, and watersports rentals. Check them out online or give them a call for each one's specific type of rentals, policies, rates, and more.